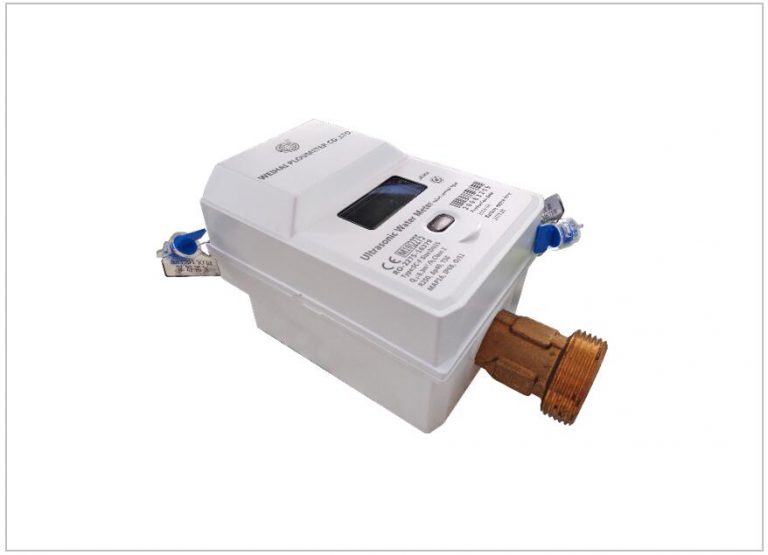 The SC-F is an ultrasonic water meter that comes with a remote-controlled valve integrated into the same meter body.
Ultrasonic technology allows for more accurate reading and a very low minimum flow of 16 liters per hour compared to 50 liters/hr of a mechanical meter, therefore it is able to detect smaller water leaks that would have gone undetected by a mechanical meter. The SC-F includes temperature indication and uses MBus metering technology to provide valuable data, low water temperature alarm to prevent freezing and control in addition to water consumption.
The motorized valve uses a capacitor to add starting torque when operated to reduce stress on the MBus line, and all the electronic components are encapsulated to protect them from moisture in the environment.
The SC-F can be installed horizontally or vertically without impacting its accuracy and is available for domestic cold water (T30/T50℃) services in 15, 20 and 25 mm diameters.
Approved and certified under MID European standards and ISO 4064: 2014.

Features
Low starting flow, the minimum flow is lower than 1/3 of the traditional water meter;
Water temperature detection, low temperature alarm;
Abnormal water usage alarm;
Installation can be done horizontally or vertically without effect on the meter accuracy
Remotely controlled valve;
IP68 design for long-term environment protection;
Meets the requirements for drinking water standards;
Sizes available: DN15 (1/2"), DN20 (3/4") and DN25 (1")

General
Metrological class
Class 2 (according to ISO 4064: 2014 / OIML R49: 2013)
R value (Q3/Q1)
R250
Pressure loss (kpa)
40
Flow rate maximum reading (m3)
99999.99999
Nominal pressure (bar)
10
Medium temperature range (℃)
T50 (std), T30 (opt)
Ambient operating temperature (℃)
-25~+55℃
Protection class
IP68
Power supply
3.6V lithium battery
Battery lifetime
7 years (std), 10 years (opt)
Interface
Optical, M-Bus
LoRa (private 470Mhz)
NB-IoT

Technical Data
| | | | |
| --- | --- | --- | --- |
| Nominal diameter | 15mm | 20mm | 25mm |
| L(mm) | 165 | 190 | 225 |
| L1(mm) | 141 | 141 | 141 |
| L2(mm) | 259 | 294- | 345 |
| H(mm) | 92 | 92 | 92 |
| H1(mm) | 31 | 28.5 | 25.5 |
| W(mm) | 102 | 102 | 102 |
| Threads meter | G3/4B | G1B | G11/4 B |
| Threaded tailpiece | R1/2 | R3/4 | R1 |

| | | | |
| --- | --- | --- | --- |
| Nominal diameter | 15mm | 20mm | 25mm |
| Overload flow rate (Q4) m³/h | 3.125 | 5 | 7.875 |
| Nominal flow rate (Q3) m³/h | 2.5 | 4.0 | 6.3 |
| Transitional flow rate (Q2) m³/h | 0.016 | 0.026 | 0.04 |
| Minimum flow rate (Q1) m³/h | 0.01 | 0.016 | 0.025 |
Q3/Q1: R250